Witness for the Prosecution CHR8
Omschrijving:
A stunning courtroom drama, it tells the story of a scheming wife testifying against her husband in a shocking murder trial. The wild beauty of a seaside house perched high on The Devonshire River Tern provides a stunning back-drop in Towards Zero -- as a psychopathic murderer homes in on the unsuspecting victims. Passion, murder and love are the deadly ingredients in Verdict, making it one of Christie's more unusual thrillers and prompting her to label it 'the best play I have written with the exception of Witness for The Prosecution'. Go Back for Murder tells the story of the young and feisty Carla who, orphaned at the tender age of five, discovers her mother was imprisioned for murdering her father and determines to prove her innocence.
Boek is beschikbaar in de Mediatheek.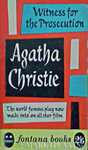 Auteur:
Agatha Christie
Keywords:
Detective
Relevant: