Eddy and the Movie Star LAI 2
Omschrijving:
Niveau C

Mr Lee is the chief editor of the Daily News. He wants Eddy to write an interesting story about Cathy Chen, a famous movie star. But Cathy doesn't like reporters and Eddy would rather write serious news...
Boek is beschikbaar in de Mediatheek.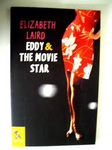 Auteur:
Elizabeth Laird
Keywords:
Literaire fictie algemeen
Relevant: