Love for Lydia BAT 7
Omschrijving:
Lydia Aspen, a seemingly shy girl from a wealthy but isolated background, is encouraged by her aunts, her new carers, to discover the delights of growing up. They entrust her education to Mr Richardson, the young apprentice for Evenford's local newspaper, who is sent to their house to 'get a story' about the recent death of Lydia's father. Richardson's access to the Aspens is unusual, as they are rarely seen by anyone from the town and hide behind their stone walls and perimeter of trees; introducing Lydia to the town's inhabitants gives Richardson a great sense of pride. Visiting the Aspen estate also allows Richardson the chance to escape from the great engulfing vacuum of Evensford, with it's endless stretch of factory roofs and back alleys. As Lydia and Richardson spend more time together, he realises that his initial concept of Lydia was wrong, that she is far from being shy and is often impetuous and demanding, and enjoys captivating the young men who become her companions. Richardson soon discovers that his promise to love her, no matter what she does to him, is going to push him beyond the pain and feelings he thinks he is capable of experiencing. One of Bates' best-loved and most enduring books, Love for Lydia is an extraordinary tale of love and longing, set against the backdrop of 1920s decadence, and the fall of the English upper classes.
Boek is beschikbaar in de Mediatheek.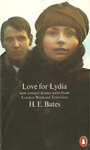 Auteur:
H.E. Bates
Keywords:
Literaire fictie algemeen
Relevant: