Fair stood the wind for France BAT 8
Omschrijving:
When John Franklin crash lands his Wellington bomber in Occupied France at the height of the Second World War, there are two things on his mind - the safety of his crew and his own badly injured arm. The family of a mill-owner risk their own lives to hide Franklin in their home until he regains his health. But during the balmy summer months that follow, the pilot's situation becomes increasingly complicated by his feelings for Fran�§oise, the daughter of the house. And as German patrols close in on the area, his only chance of survival is to escape from France.
Boek is beschikbaar in de Mediatheek.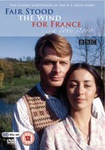 Auteur:
H.E. Bates
Keywords:
Literaire fictie algemeen
Relevant: