A Breath of French Air BAT 6
Omschrijving:
'I should like to go to France,' said Ma. 'God Almighty,' Pop said. 'What for?' 'For a holiday of course,' Ma said. 'I think it would do us all good to get some sun.' And so at the end of a rainy English August the Larkins - all ten of them, including little Oscar, the family's new addition - bundle into the old Rolls and cross the Channel to escape the hostile elements. But far from being the balmy, sunny and perfick spot Ma Larkin hoped for, France proves less than welcoming to an eccentric English family. The tea's weak, the furniture breakable and the hotel manager is almost as hostile as the wind and the rain they've brought with them! And when the manager learns that Ma and Pop are unmarried yet sharing a room under his roof, the trouble really begins...
Boek is beschikbaar in de Mediatheek.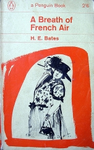 Auteur:
H.E. Bates
Keywords:
Literaire fictie algemeen
Relevant: