One fat Englishman AMI 1
Omschrijving:
Roger Micheldene Esq. - one fat Englishman - and sets him loose in America ...
Roger Micheldene, brimful of gluttony, sloth, and lust; bounding with anger; affronted by everything on the American scene ...
An English gentleman who fails to see how his presence might adversely affect Anglo-American relations.

From bed to bottle to nightly brawl, Kingsley Amis records the mock-heroic antics of One fat Englishman
Boek is beschikbaar in de Mediatheek.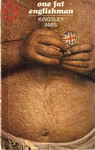 Auteur:
Kingsley Amis
Keywords:
Literaire fictie algemeen
Relevant: