Take a Girl like you AMI 3
Omschrijving:
When attractive little Jenny Bunn comes South to teach, she falls in with Patrick Standish, a schoolmaster, and all the rakes and rogues of a provincial Hell Fire Club. Her Virgin's Progress, amid orgy and seduction, makes an uproarious comedy.
Boek is 2 keer beschikbaar in de Mediatheek.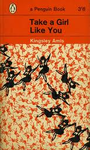 Auteur:
Kingsley Amis
Keywords:
Literaire fictie algemeen
Relevant: