Tortilla Flat STEI 5
Omschrijving:
Level A

Steinbeck's first major critical and commercial success, Tortilla Flat is also his funniest novel. Danny is a paisano, descended from the original Spanish settlers who arrived in Monterey, California, centuries before. He values friendship above money and possessions, so that when he suddenly inherits two houses, Danny is quick to offer shelter to his fellow gentlemen of the road. Their love of freedom and scorn for material things draw them into daring and often hilarious adventures. Until Danny, tiring of his new responsibilities, suddenly disappears...

(2 exemplaren ingekort en vereenvoudigd)
Boek is 6 keer beschikbaar in de Mediatheek.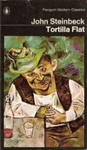 Auteur:
John Steinbeck
Keywords:
Literaire fictie algemeen
Relevant: