The Pastures of Heaven STEI 4
Omschrijving:
Level A

The Pastures of Heaven is a novel by John Steinbeck, first published in 1932, consisting of twelve interconnected stories about a valley in Monterey, California, which was discovered by a Spanish corporal while chasing runaway Indian slaves. Enchanted by the valley's natural beauty, the corporal names it Las Pasturas del Cielo or "The Pastures of Heaven." The stories are written in classic Steinbeck style; the lives of the families that relocate to the valley are portrayed with a mixture of humor and poignance. A recurring theme in the book is the pain caused when people try ineptly to help or to please others.
Boek is 2 keer beschikbaar in de Mediatheek.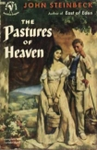 Auteur:
John Steinbeck
Keywords:
Verhalenbundels
,
Streek- en familieromans
Relevant: