To God Unknown STEI 10
Omschrijving:
While fulfilling his dead father's dream of creating a prosperous farm in California, Joseph Wayne comes to believe that a magnificent tree on the farm embodies his father's spirit. His brothers and their families share in Joseph's prosperity and the farm flourishes - until one brother, scared by Joseph's pagan belief, kills the tree and brings disease and famine on the farm. Set in familiar Steinbeck country, To A God Unknown is a mystical tale, exploring one man's attempt to control the forces of nature and to understand the ways of God.
Boek is beschikbaar in de Mediatheek.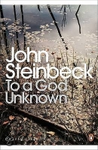 Auteur:
John Steinbeck
Keywords:
Streek- en familieromans
Relevant: