Black Mischief WAU 10
Omschrijving:
Level A

After winning a civil war Seth, emperor of the fictional nation of Azania, makes it his goal to "modernise" his country. He recruits Basil Seal, a college friend and heir to an English political family, to preside over the newly established Ministry of Modernization, with the help of Krikor Yokoumian, a successful Armenian entrepreneur. Unbeknownst to Seth and the Ministry, the French consul Ballon plans a coup d'état. At a "Birth Control Parade" organized by Seth, Ballon and several religious leaders overthrow the Emperor and install his senile uncle Achon. However, Achon dies upon coronation, and Seth dies in hiding. With no heir to the monarchy, the League of Nations steps in and claims the country as a League of Nations Mandate.
Boek is 3 keer beschikbaar in de Mediatheek.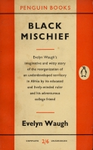 Auteur:
Evelyn Waugh
Keywords:
Literaire fictie algemeen
Relevant: