A Handful of Dust WAU 11
Omschrijving:
Level A

In A Handful of Dust Waugh satirises the British landed gentry and mercantile class. The novel is set in the 1930s, and focuses on the breakdown of the marriage of Tony and Brenda Last. Tony is preoccupied with the maintenance of Hetton Abbey, an example of unfashionable Victorian Gothic architecture. John Beaver, a self-interested and impoverished social climber, invites himself to Hetton for the weekend, and soon after begins an affair with Brenda.
Boek is beschikbaar in de Mediatheek.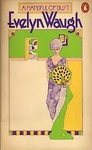 Auteur:
Evelyn Waugh
Keywords:
Romantiek
Relevant: