Collected Short Stories - Vol. 1 MAU 12
Omschrijving:
This classic collection of stories moves from England, France and Spain to the silver sands of the South Pacific. It includes the famous story Rain , the tragedy of a narrow-minded and overzealous missionary and a prostitute, and The Three Fat Women of Antibes , an extravagantly sardonic tale of abstention and greed, as well as a host of other brilliant tales.
Boek is beschikbaar in de Mediatheek.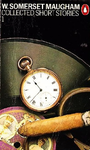 Auteur:
W. Somerset Maugham
Keywords:
Verhalenbundels
Relevant: