The Dark Labyrinth DUR 1
Omschrijving:
Seeking peace and fulfillment, a band of English people embarks upon a Mediterranean cruise. Their journey ends abruptly on Crete in the very labyrinth once inhabited by the Minotaur. Trapped by a sudden landslide, only a few of them are able to escape; others remain immured in a darkness from which there is no return; still others, penetrating the maze, find at its end a new life upon the roof of the world.
Boek is beschikbaar in de Mediatheek.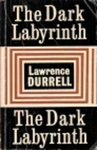 Auteur:
Lawrence Durrell
Keywords:
Literaire fictie algemeen
Relevant: