Sons and Lovers LAW 2
Omschrijving:
With an introduction and notes by Dr Howard J Booth, University of Kent at Canterbury, this semi-autobiographical novel explores the emotional conflicts through the protagonist, Paul Morel, and the suffocating relationships with a demanding mother and two very different lovers. It is a pre-Freudian exploration of love and possessiveness.
Boek is beschikbaar in de Mediatheek.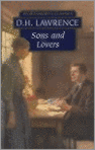 Auteur:
D.H. Lawrence
Keywords:
Romantiek
Relevant: