The Fox / The Virgin and the Gipsy LAW 3
Omschrijving:
One of a series of top-quality fiction for schools. These two short novels offer an introduction to the work of D.H. Lawrence, with their verbal precision, insight into complex personal relationships, and awareness of the physical world.
Boek is beschikbaar in de Mediatheek.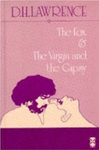 Auteur:
D.H. Lawrence
Keywords:
Psychologisch
Relevant: