The Ice Saints TUO 1
Omschrijving:
This book is about an English woman going to visit her sister and family in poland in the 1960's. Tuohy shows Poland and its people in both a positive and negative light- hope and desperation are both visible under communism. If you want to understand how Poland was in the 1960's this is a very interesting book to read. The plot of an inheritance is never very engaging- instead the reader is drawn to the characters that populate the novel.
Boek is beschikbaar in de Mediatheek.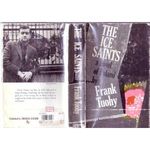 Auteur:
Frank Tuohy
Keywords:
Literaire fictie algemeen
Relevant: